Student Safety and Security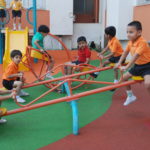 Infrastructure
We have incorporated various safety measures in our infrastructure like:
Pre-primary area is on the ground floor with spill over into the play area and garden at the same level (so limited climbing)
Soft rubberized flooring in the pre-primary play area
Separate play areas for pre-primary, primary and secondary
CCTV Coverage of all corridors, exit points and senior classrooms
Separate age-appropriate toilets for girls and boys on each floor
Barbed boundary wall to prevent unauthorized access.
Fire equipment on each floor and in basement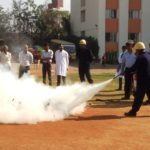 Operations
Several safety measure are incorporated in our operations such as
Parent Card to ensure that the child is handed over / picked up by parent/ authorized person only
Attendance SMS to parents to keep them informed about child absecne in school
Continuous CCTV monitoring of key access points and controlled entry beyond reception area.
Regular evacuation and fire- drills to educate children of emergency response
Regular laboratory checking of the drinking water
Background check and police verification of non-teaching staff at the time of appointment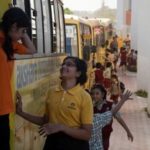 Transport
Safe bus boarding and a single vehicular traffic lane with no crossing.
Teachers escort the younger children to the school buses and monitor the boarding. Attendance is taken by them at arrival and dispersal.
The school buses get certified from the RTO at the start of the session and are fitted with a speed governor to prevent speeding.
The buses have a GPRS fitted and their movements are monitored by the School Transport team. Parents can monitor the movement through an app.
The school monitors compliance to RTO guidelines and conducts regular awareness sessions with drivers, attendants and mausis.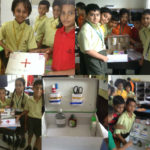 Medical Care
The school has a well equipped Infirmary with a full time lady doctor having ICU experience.
A First Aid training session is conducted every year for the staff members and floor wise "Emergency Response Teams" are constituted.
The school has a tie up with Aditya Birla Hospital for dealing with emergency situations.
School organizes two health checkup camps every year. In addition workshops on child safety (POSCO) and adolescence are conducted by external experts.