Dining
Akahara being a Day Boarding School, meals are an integral part of the school program. Children enjoy the nutritious and well balanced food served during the day:
Starting with Breakfast on arrival (at 8:15 a.m.)
Lunch is a sumptuous balanced meal (dal, subzi, rice, chapatis, dessert/ fruit, salad) (around 12:30 p.m.)
Evening snacks after the games/ hobbies sessions (at 4:30 p.m.)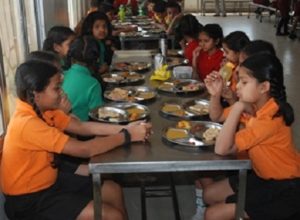 Akshara cafetaria is demarcarted and equipped as per age group. We have a well-planned seating in our dining hall(e.g. pre-primary children have separate circular seating of lower height). In house faculty, teachers keep a proper check on the children's manner. The pre-primary children are assisted by an ayah and their menu is also customized to include items which are easier to eat but are wholesome. Milk is served to them in the dormitory after they get up from their afternoon nap.
The school is very particular about hygiene and children are made to wash their hands with soap before they get seated. They also say a prayer before the start of the meal. An RO (Reverse Osmosis) plant has been installed to ensure quality drinking water.
Since the child has all meals except dinner at school and does not carry homework, we encourage parents to spend quality time with the child in the evening and make dinner time into a family activity at home. (We always feel that to a child mother's meal will always be the best but we strive to be close second).
The school food menu is designed by our Dietician keeping in mind the needs of growing children. It is planned on a monthly basis and displayed on the website. The school serves purely Vegetarian food.