Library
Books are our friend and philosopher for life. The more you read, the more things you will know. The more you learn the more places you will go. To inculcate the habit of reading at Akshara, we have a library period right from Kindergarten onwards. A well resourced and exhaustive library is the highlight of the Akshara infrastructure, where our children get to explore different books.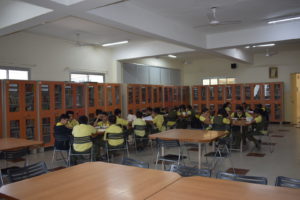 We have 4000+ books in our library which is well ventilated with good lighting and spacious reading hall. Library includes
Journal Section for reference
Entertainment Books & Newspapers to update on news and happenings around the world.
Encylopedias.
Rich stock of Literature
Wide range of Audio and Video DVDs and CDs.
In primary section, we have introduced the concept of a class library with a Reading corner.